Hi everyone! Please be warned: the following post is an utter rant about customer service! But it also includes a couple of tips for shopping for art supplies in Austria. Please enjoy!
Usually I behave myself on social media and keep my ranting to a face-to-face level. But now and again I can't help myself and I have to get it out of my system in a written form for everybody to read and – if they choose so – to join in.
Living in Austria means that getting specialised art supplies e.g. for scrapbooking or card making is difficult at best. At the very least it is expensive! There are only a couple of small and overpriced shops in Vienna that sell card making and scrapbooking supplies. At this point I want to say that I know that international taxes and the differences in currency etc. make it difficult for those shops as well to offer the products cheaper. Anyway, when they have a sale or take place in a trade fair it actually pays off to visit those shops.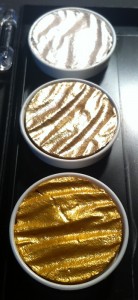 Of course there is always the possibility to order your stuff online (mostly from the US). This can also be expensive because the shipping costs are sometimes horrendous. And there is also the waiting. If you are anything like me you simply cannot wait 10 – 20 days for the products to arrive. In the meantime I had hundreds of ideas how to use the new stuff and can't wait to try it out. For me this is torture! Anyways there are a couple of good online shops out there that have a huge range of products and fair shipping costs. My favourite shop to order online is Simon Says Stamp. They have a very good selection and I have had very good experiences with them.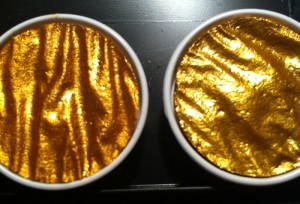 Sometimes the products I use are not very specialised and I can get them in general art supply shops, even locally. That anyway is what I thought when I fell in love with the FineTec Mica Watercolours in Gold. I first saw them being used and introduced in a YouTube video and I knew I had to have them. There is a set of 6 colours; 5 in Gold and 1 in Silver which I wanted to have. At this time Simon Says Stamp didn't carry it so I researched it online and found out that it actually is a German product. Great, right? First I tried to find out online whether and if so, where in Austria I could by those marvellous colours. But I couldn't find anything… Then I looked for online shops in Germany and found a shop called COLIRO that sells this product for € 24,95 plus € 6 shipping costs to Austria. At that time I decided to wait a little longer – maybe it would come to Austria or Simon Says Stamp would be caring it – so I can save shipping costs. That was a couple of weeks ago.
Recently I couldn't get those beautiful watercolours out of my head and I wanted to have them right away. I found nothing online in Austria but Simon Says Stamp included them to their range of products for $29.99 (about € 26,80). Yeah! But it was out of stock… I was very sad and impatient. I waited several days in the hope they would restock it but they didn't. So I decided to try something else.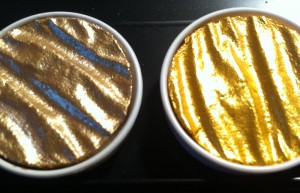 You have to know that there are two big (general) art supply shops in Austria. One of those has a website with online shop so I knew they don't carry the FineTec watercolours. The other shop is an art supply/office supply/gift shop in the 7th district of Vienna. They have nice selection of general art supply but I know them to be very expensive. At that point I really – and I mean really – wanted those watercolours and was ready to pay a little extra for it. So I went to that shop and hoped they would carry it and that it wouldn't be more expensive than the "normal" price plus shipping costs. This would be around € 30 – if you remember the offer from the online shop in Germany. But I knew that shop was expensive and normally I try to avoid shopping there because of the prices.
Anyways I get there and to my big surprise they had those watercolours – even that exact set with the 6 colours I wanted. So I stood there all happy thinking "that's too good to be true"! At this point I didn't know the price yet and I was reluctant to pick the product up to take a closer look trying to guess how much they would ask for it. So I know it should the somewhere around € 25 – € 30, maybe even € 35 because Mas… ehm… that shop is really expensive… BUT: The price tag said € 49,90!!! Can you believe it?! Well I couldn't. So I went over to the counter and asked the clerk if she could check for me if that was the correct price.
And here is why they lost me as a customer: High prices is one thing and it is my decision whether I want to spend an absurd amount of money for things I can get somewhere else, but being utterly rude and condescending towards a customer is something else entirely!
After my question about the price the clerk looked at me and said that it was indeed the correct price because of the high quality of the product. She went on about pigmentation and it being an artist grade product. I told her that I knew the product and about its properties (after all, I had done a lot of research already!) but that it would sell much cheaper in other stores like the German COLIRO and even in the US at Simon Says Stamp. So she switched tactics and suggested that I must be talking about another smaller set. Again I told her that I knew what I was talking about and that I was even in contact with a shop in Germany. Then she had the nerve to tell me that I must have gotten bad information from that shop!
At this stage I was already very angry! I told the clerk: "I know that this shop is really expensive, but 100% mark-up is just ridiculous"! She looked at me awkwardly and started again with stuff like product quality and what not.
Really!? I much rather have them tell me in an honest way that this is an expensive shop and that these are their prices. Take it or leave it.  That would at least be honest. And they wouldn't be insulting their customer that way.
Anyways I pulled myself together and angrily mumbled that I wouldn't take them. I already had picked two sheets of glitter papers and wanted to buy them instead. The price tag at the shelf said € 1,50 so I expected the clerk to ask me for € 3. But instead she asked for € 4! Let me quickly tell you at this point that I had looked very carefully when choosing the glitter paper. They had two different types of glitter paper: a smaller sheet with finer glitter for € 1,75 and then a 12 x 12 inch sheet with bigger glitter granules for € 1,50. I decided to get the cheaper ones since they would suffice for my project. That means I did a side to side comparison of the papers! So I tell the clerk that the price tag for the paper was € 1,50 and she tells me: "No, you are mistaken!"
Well, let's just say I snapped. I gnarled at her to "forget it and keep the sh*t!" and stormed out. I was really angry and felt insulted! That is really poor customer service and they will not be seeing me again!
I know, that was a lot – but I feel a lot better now! Thanks for reading and please let me know, where you shop for your art supplies. Also feel free to share your experiences with bad customer service!